You spend a lot of our time at work. Your workstations should be inviting and stimulating, but also a blank canvas that you can decorate to reflect your individual personality. A well-designed workstation can affect our mood and foster creativity. Turn your workstation from ordinary to cool with these creative ideas—that are also easy on the pocket:
---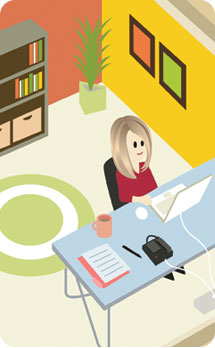 Light up your mood
Research has shown that lighting plays an important role in determining our mood. With so many cool lighting options, the florescent lights overhead shouldn't be the only option for brightening your day. You may not be able to change office fixtures, but personal lamps with unique lampshades also work. If you are lucky enough to sit near a window, great! Use that to your advantage. Natural light trumps artificial light any day.
Use storage to stay sane
Storage bins, magazine holders, paper trays all serve the same purpose—to hold and organize documents and items that could get in the way of our normal day-to-day activities. There are plenty of options for fun storage units and organizing tools.
Storage units come in both neutral and bright solid colors to prints and funky patterns, and you can mix and match
Add a bookcase tower to the end of your workstation. Combine art with books and binders. Use sculptures or vases as bookends
Don't have room for a guest chair? Pedestal file drawers fits nicely under your desk, comes in 56 paint colors and features a cushion on top for your guests to sit on!
Need to upgrade all workstations in the office to accommodate for a growing team, or more flexibility? Swiftspace has the answer.
Swiftspace
is a functional workspace that can be set up by anyone. Swiftspace workstations can be moved around and configured to fit the needs of your company.
The smallest details can make the biggest difference
Sometimes the little things, such as pens, paper clips and staplers get overlooked. Organizing pens and highlighters by color makes things more interesting. Staplers come in a variety of colors that can be matched with other organizing tools like trays or pen cups. File folders in different colors and prints make grabbing a file a bit brighter, and can serve a functional purpose as well—color code by client, department, or order of importance.
Think of your walls as your canvas
Painting just one wall does wonders in changing the mood of any room. You can use your workstation walls as a creative outlet. Here are some ideas to get your creative juices flowing:
Use chalkboard paint— paint a chalkboard calendar with squares for dates. Then update your schedule whenever you like.
You can add frosted or clear glass to all partitions
To make things a bit more personalized, you can also add Tac Boards—these are bulletin boards covered in the fabric of your choice. You can change the fabric anytime you redesign your cube.
Tac up a creative collage of inspirational items, or life's favorite moments
---
Start your workstation makeover
Regardless of budget, there are many affordable choices when giving your workstation a makeover. Let Corovan help you plan and build a workstation that allows you to express your personality and creativity.
Contact us today »