Getting you reconnected and back to business in no time.
Our technology relocation and support services are embraced by the most technologically sophisticated businesses in the world. As a division of Corovan, Corotech provides different levels of tech services based on your IT team's needs, giving them more time to focus on the most critical tasks during a move. With the help of Corotech, you will eliminate downtime during technology changes and relocation projects.
Your Technology Relocation Process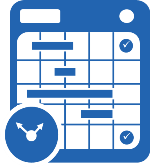 Premove Planning
The right move plan makes a big difference in the success of your business moving cost and timeline. We'll work with you and your IT team to customize and integrate an technology relocation plan to the overall move schedule. This will ensure a more seamless process for your end users, getting them back to work with less downtime and connectivity issues.

Move Management
Whether you are moving a small office or a large data center, you'll have great peace of mind knowing our team is here to manage the entire technology hardware relocation process, making sure we use the right moving equipment, packing materials, as well as assigning the right manpower and skill sets required for the job.

Moving Day
The day of your move shouldn't have to be stressful with last minute surprises, glitches, and chaos. Our project manager will be there to monitor the entire process, making sure all equipment are disconnected, protected, packed, moved, and reconnected properly in a timely manner.

Post Move Support
As your team settles into the new space, there could be additional changes, reconfiguration, temporary or ongoing IT support required. We're here to help make sure you and your team are taken care of, and that your business is up and running with as minimal disruption as possible.
Don't get tangled up on the day of your move.
Your move can place unexpected demands on your IT team. Corotech partners with you to quickly re-establish connectivity to get your business back up and running. We'll work with you to provide a cost effective solution for disconnecting and reconnecting computers, printers, phones, and other hardware — giving your IT department one less thing to worry about. We are not a data security company, so it is up to you to back up, encrypt, password protect and secure your data.
Contact Us
The synergy between Corovan and Corotech offers great benefits to our clients:
Eliminate the cost and hassle of recruiting and training technical staff and get immediate tech support with Corotech for your temporary or ongoing IT support needs.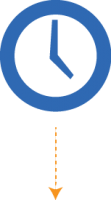 Eliminated Downtime
between office relocation and technology relocation phases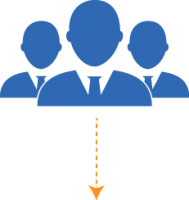 Highly Skilled IT Professionals
to support your IT team, giving them more time to focus on the most critical tasks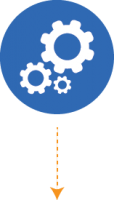 Simplified Relocation Process
that provides optimal security levels for every move
Tech Move Preparation Tip #8:
Every component must be labeled by the end user prior to the move. If it's not labeled, it won't be moved. However, to prevent improper handling and unnecessary damage, end users should not pack their own computer equipment. Our technicians will pack them using proper protection such as monitor covers and anti-static bags.
Learn More
Managed Technology Relocation Services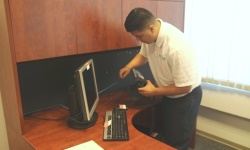 Disconnect & Reconnect
We deploy specialized teams and use highly refined processes to handle desktop workstations, computers and other equipment quickly and accurately.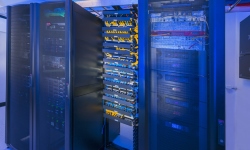 Data Center Relocation
Planning and executing a data center relocation is a challenge—these are complicated moves. Our qualified technicians are here to help you every step of the way-from planning to execution.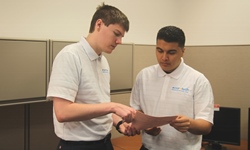 Technology Move Management
We provide upfront planning to help you get organized, and professionally supervise every aspect of your technology change project.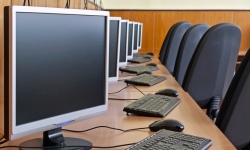 Hardware Deployment
Our tech team is here to help with new technology roll-outs, including setting up and testing your new equipment such as computers and phone systems, leaving you and your team more time to focus on keeping business running as usual.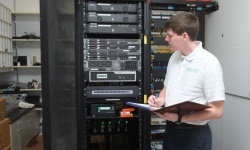 Technology Inventory Management
Keeping track of computers, printers and equipment often takes a backseat to other business, but itemizing and accounting for your technology assets is important.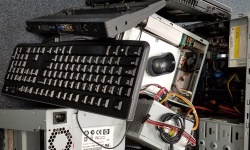 Recycling & Repurposing
Hard drives and other e-waste materials are decommissioned and recycled and repurposed wherever requested.
---
Reviews from Verified Customers
Great service as always
Wayne
Great...very easy to work with!
Tom
Always such a pleasure to work with Corovan at every stage of the process. The moving crew on the night was fabulous.
Susan
Corovan has been excellent. The crews are very punctual and efficient.
John
I was very happy with the level of communication between Steve from Corovan and myself, it made figuring out all of the details very easy. The two gentlemen who came to move all of the boxes were very nice and did a fantastic job. I was extremely happy with the service I received.
Marisa
Always courteous and willing to do what we ask.
Betty
The crews work well together and follow instrucitons from onsite Lead. THey have good cusotmer service and are careful in moving furniture.
Krisanne
Everyone was easy to work with and provided fast and efficient service
Albert
Corovan has served me extremely faithfully with highest quality service for the past 6 years through three different companies. I would never use another vendor.
Adam
Need more detail about which experience this pertains too. Please provide an address or care order in the futre
Anonymous
best, most prepared move team. Polished Professionals.
Ted
Contact UsRequest a Free Quote and talk to our technology relocation expert today!