Corovan helps you complete greener moves.
Sustainability is vital to the success of any organization, as well as its reputation in the community. At Corovan, there is a lot we do to maintain a green business while supporting our customers in achieving greener moves. As a part of our green business initiatives, Corovan has evolved into using energy efficient vehicles, offering reusable moving crates, making recycling a must for pre-move preparation, and more. Whether our customers need help recycling paper, reusing the office furniture they already own, reupholstering old cubicles, avoiding the landfill, or improving the environmental impact of daily operations, Corovan tries to offer the most proactive and environmentally friendly green business services available.

450,000 Crates
Used per Year

900,000 Cardboard Boxes
Saved per Year

7.2 Million Pounds of Paper
Recycled per Year
Engineering Greener Workplace Changes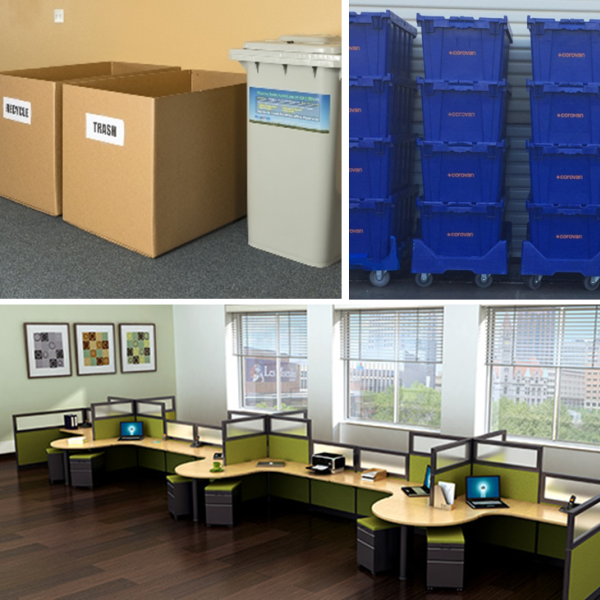 Recycle & Purge Campaigns
Moving is a perfect time to take stock of what's needed at your new location, and purge what's outlived its usefulness. Corovan supports your green efforts by implementing pre-move purge and recycle campaigns, offering secure shred bins for your obsolete documents as well as collecting unwanted materials, equipment, and furniture for recycle or donations.
Corocrates – The Alternative to Cardboard
We help thousands of businesses move every year using sturdy plastic crates instead of traditional cardboard moving boxes. Our reusable Corocrates are just kinder to the environment compared to regular moving boxes, they also make your relocation easier, safer, and cheaper.
Eco-Friendly Furniture Options
By partnering with the best furniture manufacturers with common green goals, Corovan helps you select the right
eco-friendly office furniture
for your space and budget. We have sold over $1 million worth of remanufactured office furniture, helping companies like yours use less landfill, less energy, and less resources while maintaining great style for your workplace.
Ready to plan a greener move?
Choose a partner that shares the same goals and supports your green initiatives.
Talk to our workplace change expert to get started.
Eco-friendly Office Furniture Options
Contact UsTalk to our workplace change expert and get a free estimate today!