Happy and productive employees are the foundation of any successful business. Facility managers play an essential role in creating and maintaining positive workspaces — the kinds of workspaces where employees thrive.
---
In other words, facility managers have the opportunity to turn the physical workspace into a competitive advantage for your business, even helping you achieve your new year's productivity goals.
Specifically, facility managers can improve the workplace in ways that boost employee engagement. Making improvements to the workplace:
Shows concern for employee wellbeing.
Improves health and mood for the entire team.
Encourages collaboration and teamwork.
There are many steps that facility managers can take to create workplaces where employees flourish, feeling well cared-for and doing good, productive work. Here are three ways to boost productivity in your workplace.
1. Get Sit/Stand Desks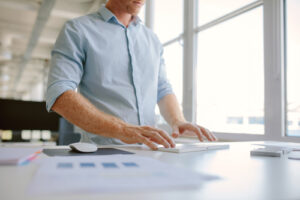 Some in the field of office design say that "sitting is the new smoking"… a reflection of just how unhealthy the sedentary lifestyle is, and how stigmatized it's becoming.
In part, this explains the growing popularity of sit/stand desks. While standing is no substitute for physical exercise, it can improve employee health and wellbeing.
Changing positions throughout the day:
Improves concentration and ability to focus.
Helps minimize health risks associated with being sedentary.
May even help boost mood and energy levels via improved blood circulation.
Providing sit/stand desks is a small yet effective way for facility managers to support worker performance and wellbeing.
2. Offer Flexible Work Schedules
Facility managers may not have sole discretion to provide flexible work schedules; this may require authorization from HR or from frontline managers.
But if allowed, flexible work schedules can be enabled by facility managers, potentially taking many forms to boost productivity in the workplace. These could include alternative hours, a compressed work week, hybrid work, or work from home. Facility managers can help promote flexibility and productivity by configuring the workspace for hoteling or hot desking.
Improved employee work-life balance.
Enhanced worker retention.
Better employee engagement.
One final way for facility managers to promote employee engagement and wellbeing is by furnishing a number of different workspaces, making it so that employees are not confined to a single location.
Employees generally love the option to work in different locations, possibly sitting outside or working in collaborative spaces. And even more traditional workspaces can be enhanced by using natural light, plants to improve mood, and other elements of the natural world.
Note that, in addition to open office space or shared spaces, there must also be meeting spaces where people can have privacy for concentrated work or to make phone calls.
Turn Your Workspace into a Competitive Advantage
As we head into a new year, many companies have made resolutions to boost employee performance, productivity, and satisfaction. Facility managers can play a huge part in achieving those resolutions, all by creating better workspaces.
Are you ready to create workspaces for your most valuable asset?
A trusted workplace change partner can help you create the workspaces you need to support your team members.
Do you have questions or logistical concerns about revamping your workspace? We'd love to offer our insight. Contact Corovan at your convenience.