Your employee break room is for more than just coffee—learn how to turn it into a perk, too.
The employee break room is not just for eating lunch and sneaking the last dregs from the coffee maker. The break room is a key driver in improving corporate culture, morale, and productivity.
---
These days, it's where employees can have more casual, non-work related conversations—say, about weekend plans—that they might hesitate to have in a designated workspace like an office or bullpen of cubicles. It's a democratic space where everyone from the CEO to the receptionist can meet on equal ground, collaborate, get face time, hold a meeting, and get some play time in. In other words, re-examining your employee break room might be a worthy investment of time and resources.
Supply the basics as well as surprises.
Employees expect a place to prepare food, but with careful thought, you can make the break room a place to linger instead of a nebulous limbo out of "Dilbert" or "The Office." For instance:
Add juicers and panini presses alongside the toaster ovens and microwaves.
Store lunch bags in fun retro refrigerators.
Add benches or couches for facilitating impromptu meetings or quick phone calls.
Offer alternative sweeteners like raw sugar, stevia, or agave.
Update your refreshment selections with healthy snacks in baskets and fresh fruit in addition to the standbys of vending machines, coffee, water, and soda. Bonus points: Plentiful free snacks are a popular perk on company review sites like Glassdoor, CareerBliss, or Indeed.
Use video screens to publicize company news or air important current events or big sporting events.
Jazz up the old-school company bulletin board. Consider soliciting photos from employees, rotating weekly recipes, showcasing glowing customer testimonials, or even posting items pertaining to a monthly theme that varying departments can take charge of curating each month.
Implement charging stations for those who can't unplug from technology.
Bring in offbeat furniture like yoga balls or bean bags.
Make it a prime employee destination.
While great amenities certainly help, employers should be sure to provide enough space to accommodate a reasonable amount of employees and make it appealing to everyone with neutral color palettes. In addition, reconceiving the purpose of a break room can help spur creativity, productivity, and better morale.
Create a café in the office.
Give your employees that much-needed java break or room to work without them having to leave the office. Plus, you're providing an impromptu work or collaboration space that is less formal than a desk or cube and can literally provide a new perspective on a challenging problem.
---
Set up permanent or flexible communal spaces.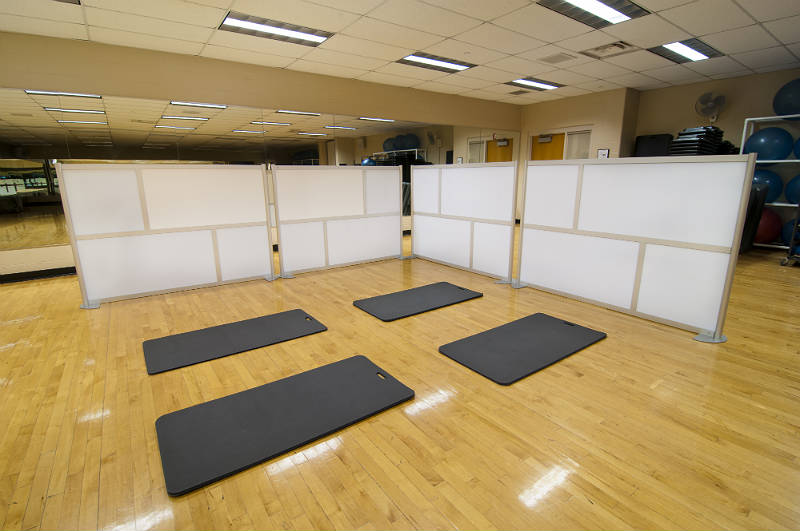 (Image provided by Loftwall)
Employee break rooms don't always have to be kitchens. Depending on the size of your office, it can be a central location, a corner, or, with a modular wall, in different places all the time for a change of scenery. Varying the location can also put employees in contact with others they don't regularly see. However, consider the needs of teams near the proposed or existing break rooms: Some may need quiet, such as engineers, or need to be situated away from high-traffic patterns (such as if HR deals with confidential information).
---
Make it a "play room."
While some companies go the Nintendo and ping-pong routes, even bringing in simple board games, card decks, and the like can appeal to a wider variety of employee age groups. Create an employee lending library of books, music, DVDs, and video games.
---
Call it something else.
If the term "break room" sounds too antiquated, rebranding it as a "company hub," "common space," or "town green" can impart a more business-proper sense of possibility, work, and concentration—which can keep employees from spending too much time on personal matters there. Plus, it can provide a convenient site for company initiatives like yoga classes or charity food drives.
---
Bring the outside in.
Picnic tables, lawn chairs, and the like can create a relaxed space where employees can get a different perspective on a challenging problem.
---
Create an employee break room they'll really talk about.
Most companies probably fall somewhere in the middle, but an exciting, over-the-top break room can definitely build positive word-of-mouth buzz about your company. Who would have ever thought you could use a ball pit or bowling alley to attract and retain talent?
---
However, you don't need fully immersive experiences like those above—or even a lot of room—to create a favorite destination for employees. As with any modification to your space, your company's needs, culture, and mission always come first.
Next: Break Room Furniture