It's one fact that everyone can agree on: We're all working harder than ever. But are we more productive? Here are seven ideas that are guaranteed to maximize productivity in your workplace.
---
1. Best-Practice Ergonomics
Investing in good ergonomics can save you a bundle in absenteeism and healthcare costs. Start out by checking your employees' workstations for the proper chair and monitor height. And encourage your staff to take a quick break from sitting at least once every hour. Get more tips on how to get comfortable here.
2. Temper Your Thermostat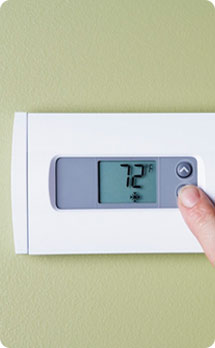 It's a dilemma fit for Goldilocks: Keep your office too cold and typing errors increase while output slows. Raise the temperature too high and employees are nodding off at their desks. If you want your office productivity to be "just right," set your thermostat somewhere between 72° and 77°F, the experts say. And don't forget the importance of good ventilation.
3. Go Green and Leafy
Plants also add value when it comes to the workplace environment. They're proven to filter the air, fighting mold and bacteria to keep your workforce healthier. Depending on the size of your plants relative to the room, they can also cool the ambient air up to 10° and increase oxygen levels – especially important in spaces with multiple computers.
4. Don't Scrimp on the Java
A good coffee and tea system is a great investment in your staff's productivity. According to DailyPerk, more than 60% of employees feel that good coffee makes them feel more valued and 43% report a positive effect on their work productivity. Just as significant, when coffee is not provided by the office, 22% of employees will leave to get coffee or tea, accounting for 14 to 20 minutes a day. This adds up to a potential loss of over $15,000 per year for an office of 50 people!
5. Favor Fitness
The more fit your colleagues, the less likely they are to call from bed with a cold or a back injury. And research shows that the least productive hours of the day are between noon and 2 pm. So why not encourage your staff to work out at lunchtime by subsidizing a gym membership, or even turn your storage room into an in-house gym?
6. Enforce Those Vacations
It may sound counter-intuitive, but vacations and days off are key to keeping employees motivated and focused. Countless studies have shown dramatically increased productivity levels at companies that encourage employees to take breaks. You may not want to go as far as Hubspot or GoHealthInsurance.com, which offer unlimited vacation policies. But the former has been ranked as the #2 fastest-growing software company on the Inc. 500, and the latter reports a 200% increase in growth over the last year.
7. Sleep on the Job
The Centers for Disease Control and Prevention estimates that nearly 30% of American workers – 40.6 million – don't get enough rest to function at peak levels. One study by Harvard Medical School found that insufficient sleep cost U.S. firms $63.2 billion in lost productivity each year. Some companies promote the idea of "power naps," even creating "nap pods" for quick, on-the-job snoozing.
Bonus Tip: Step back and take in the view
Sometimes you need to step back and take a larger view of your operation. Is your office layout supporting your corporate vision and your employees' needs? Is an open or flexible workspace the better option, or a more divided, private layout? Corovan is an industry expert in space planning. Our advisors can help you create the ideal space to promote optimum productivity.